Spyderco Chaparral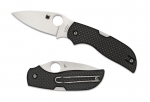 View More Pictures
Overall:
Quality:
9.0
Ergonomics:
10.0
Value:
2.0
Overall:
Quality:
9.0
Ergonomics:
10.0
Value:
2.0
Knife:

Spyderco Chaparral


Review by:

Jdizzle


11/30/2011
Price: $120.00
Use: Every Day Carry
Time Owned: 3 months

Comments:


The Spyderco chaparral is in my opinion, about as good as it gets for an EDC knife. It is lightweight and has a fairly deep carry pocket clip that helps it completley disappear clipped to your pocket all day. The spyder wire pocket clip is quickly becoming my favorite. The only gripe I have with the knife is that the liners are so close together, there is so little clearance between the blade and liners that unless you use two hands and pull the blade strait out, it rubs the liner your thumb is pushing towards. Not a big deal to me, and it has been getting better as the knife breaks in. The knife has a pretty good lock up, and is the first lock back ive gotten from spyderco without any blade play forward and back. Lock up is superb. I am curious as to how spyderco can charge the same amount as the sage 1 for this knife, using the same materials, and less of them at that. Ergonomics are good, it is pretty much just a smaller sage 1 with a lockback. The lockback has a pretty deep engagement too, the lock must be pushed pretty far to dis-engage it, so I think the lock should be very strong. If spyderco could get the price down, this would be the PERFECT edc knife. I am excited to see the handle material variations they will come out with once a year. Highly reccomended.