SOG Aegis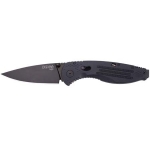 View More Pictures
Knife Type:
Folding
Locking Mechanism:
Arc-Lock
Blade Length:
89mm
Average Price Paid:
$72.14
See Current Prices
Overall:
Quality:
Ergo:
Value:
Knife:

SOG Aegis


Review by:

Juan


10/19/2013
Price Paid: $98.55
Use: Other
Time Owned: Less than 1 Month

Comments:


This knife was USELESS! As a collector who has owned over 300 knives, this "assisted opening" knife was the hardest to open of any knife I have ever had. The plastic handles feel cheap. I used to be a major fan of all SOG products, but this turned into an absolute DEBACLE! I have spent over 31 days trying to return the knife, and STILL have not gotten my money back; I have been lied to; stalled; and, had a ludicrous amount of time and energy wasted to no purpose whatsoever.

I got two Kershaw Leeks for the price of this knife, they are silky smooth; open smoothly and quickly; have steel handles; and, Kershaw is easy to deal with, prompt, and HONEST!
Overall:
Quality:
Ergo:
Value:
Knife:

SOG Aegis


Review by:

FLParadise


01/27/2012
Price Paid: $60.00
Use: Every Day Carry
Time Owned: Less than 1 Month

Comments:


Purchased based on other reviews. I suppose it's ok, but is less than what I expected. Biggest concerns are that lock up allows for some movement. Blade shape is excellent. Clip is excellent and allows for deep carry. Deployment is excellent. Thumb jumping is not as grippy as I was expecting, but the body is large enough to gain a firm purchase. Wish it had a lanyard hole. Good overall, but not the wow I was expecting based on all of the reviews, but good value for the $$.
Overall:
Quality:
Ergo:
Value:
Knife:

SOG Aegis


Review by:

marc


01/26/2012
Price Paid: $75.00
Use: Every Day Carry
Time Owned: 6 months

Comments:


While searching for the perfect edc knife for my needs i purchased a bm 940, spyderco pm2, kershaw ram, sog aegis drop point, and tanto and a sog trident clippoint..i wanted something light but still be good for self defense and other light tasks...i thought the 940 was perfect but the knife blade seems a bit small for sell defense... the pm2 is a great knife but to heavy to carry around all day long plus it sticks out of the pocket a bit...i really like the kershaw ram for the price but it to is about the same weight as the pm2...so next i tried the aegis...almost the same low weight as the 940 but its blade is bigger and better suited for self-defense plus the pocket clip is the best of all these knives imo it sits so low in the pocket you can not see a knife sticking out...aus 8 is alot easier to bring back to shaving sharp than s30v. So if you want a big knife the carries light and disappears in your pocket this is a great choice. And some say it is hard to get out of the pocket, but all you need to do is grab the clip on the outside and just pull up comes right out..i did not like the tanto version as much as the drop point..as for the trident it is a nice knife got one off of ebay for 35 bucks but it is about the same weight as the ram and pm2...so if i'm going to be out all day long i'll opt for the sog aegeis...if i'm just running to the store at night i'll grab the pm2...hope this helps you make up your mind
Overall:
Quality:
Ergo:
Value:
Knife:

SOG Aegis


Review by:

Blade


11/24/2011
Price Paid: N/A
Use: Every Day Carry
Time Owned: Greater than 1 year

Comments:


I liked the blade shape of this knife and the weight as well. This is good knife as light EDC blade, but that's it. You can open packages and boxes with it and so on, but it's not intended for any harder jobs. S.A.T. works great, but there is always some side to side blade play. You can get rid of it (only for some time) by tightening the pivot screw, but that will slow down the blade deployment. I loved the weight of this knife, you didn't know you have it on you and the pocket clip is amazing (probably the best pocket clip on a folding knife), but I just didn't trust the mechanism (too many small and weak parts which can break) so I sold it. Also one of the kraton inserts in the handle fell off, so I used glue to get it back and it was ok, but I didn't expect it from such a knife. It's a good light EDC, but I wouldn't put my life or safety on this knife. If you like the design, buy it, it's very good looking knife, but if you're looking for a bit harder jobs knife, look somewhere else.
Overall:
Quality:
Ergo:
Value:
Knife:

SOG Aegis


Review by:

maximo92f


01/09/2011
Price Paid: $55.00
Use: Light Duty/General
Time Owned: 6 months

Comments:


First off anyone who reviews a knife or reads a knife review must keep in mind what the product they are reviewing or reading about has an intended purpose and so that purpose is what should be reviewed. Way too many people buy a light weight knife and try to chop down a tree with it and when it breaks they give it a bad review.

With that in mind the SOG Aegis was designed to be a light weight EDC normal task use knife not a survival knife. I EDC two knives one for the majority of my tasks which is my right hand carry knife. The SOG Aegis is my Left hand carry knife. My particular criteria for weak side carry is as follows. It must be light weight, have an open assisted blade, have an excellent piercing blade of at least 3 inches with a plain blade and can be carried right or left handed and hide well in the pocket. This knife fits all that criteria to a T. I deliver and repair medical equipment for a living going from home to home. Like any delivery person dogs, especially in bad neighborhoods are an issue so I carry two knives instead of a multi blade knife so I have access to a defensive blade with either hand. Weight was an issue for me for LH carry since I already carry enough in my pockets and on my belt to rival Batman. Normally I would look to Spyderco for a light weight EDC knife but I needed the open assist for LH carry due to a permanent injury to my left hand. This knife grabbed my attention simply on looks then as I researched it I found it is extremely light. With a 3.5 inch blade in weighs in at only 3.1oz. The bayonet clip allows for deep carry yet I have no trouble pulling the knife in or out of my pocket.

This knife has some of the best ergonomics I have ever felt in a folding knife. The rubber inserts along with the digital texture allow for a good firm grip wet or dry, gloved or not. In my opinion the gimping on the back of the handle is way too smooth and does not give a good enough grip for your thumb during heavy cutting but is not a deal breaker.

The lock up on the blade is quite nice for a knife that does not have liners in the handle. Upon receiving the knife I had to adjust the pivot to get the lock to work at full strength and remove some side to side wiggle in the blade but once the adjustments were made the knife felt much more solid.

The blade is made of AUS-8 steel which is light, holds and edge well enough and is quite corrosion resistant. I see a lot of complaints in reviews about AUS-8 steel being sub-par and that is simply nonsense. Everyone wants S30V but few are willing to pay for it. Every knife is a compromise and in sub $200 knives you are going to get a small downgrade in steel that does not make lighter steels like AUS-8 unworthy of knife use. It wasn't that long ago everyone wanted 440c and the day will come S30V in no longer king of the hill.

Overall this makes a great EDC knife for the common, works in the city type of guy, but is not a heavy use knife for such as a ranch hand or construction worker and this knife should not be treated as such. The Aegis has an excellently shaped spear point flat ground blade (big fan of flat ground blades) that is capable of an extremely sharp edge and the blade retains that edge quite well. This would not be my first choice of folder to be dropped of in the middle of the Alaskan wilderness with but would work in a pinch, but for common every day cutting even in the kitchen there are few better. The only change I would make is to drop the useless blade locking mechanism. Just my opinion but there is no place for such a device on a knife.
Reply by: DoubleR 07/24/2012
The Spyderco Caly 3.5. I own app. 150 knives, and this one is superior. In fact, Sal Glesser, owner of Spyderco, a man that could probably afford to carry any knife in existence, carries this knife, which in my opinion speaks volunes.


Reply by: wildpig 09/06/2011
i suspect joey knows knives. sog aegis sog mini vulcan bm 746 many aubrac laguioles............ a few bokers


Reply by: Joey 06/01/2011
Whats the best pocket knife for edc I can get for around 100 bucks


Overall:
Quality:
Ergo:
Value:
Knife:

SOG Aegis


Review by:

Droppoint1110


04/15/2010
Price Paid: N/A
Use: Self Defense
Time Owned: 6 months

Comments:


At first, I was a bit skeptical about SOG in general. After watching a few reviews that all seemed to have a very positive verdict, I decided to purchase the Aegis.

Upon receiving the knife, i inspected it for any adjustments that needed to or should be made. I was happy to see all it needed was little pivot tweaking. The Aegis features a Japanese AUS-8 blade steel, Zytel handle with rubber inserts, and SOG's S.A.T.- Surest Assisted Technology. The knife also has a safety which prevents the knife from being deployed accidentally. I found this to be unnecessary and rather annoying. If you would ever need to deploy the blade quickly in a defensive situation and under pressure, you may forget it was locked- costing valuable time. After removing this lock, the knife was a pleasure both as an EDC blade and could easily function as a great defensive knife. The Arc lock is the same featured on many of SOG's models and locks the blade up very solidly every time. The S.A.T. system is very fast and also very solid. The knife actually "kicks back" as the blade locks up.

The blade steel itself is a pretty good steel in my opinion. the heat treat on it is done well and the edge retention is decent. The satin finish is very glossy and consistant. Through use, it will show scratches though. The actual shape of the blade is very useful as well. It is a full-flat grind making it great for slashing cuts. In addition, the leaf-shaped profile of the blade tapers to a nice, thin point that is very good for piercing but isn't very strong.The ergonomics of the Aegis are very comfortable, however, to me, they're not the best. The pocket clip is a bayonet-style and lets the Aegis ride completely in the pocket. The rubber inserts are textured with: "sogsogsogsogsog" etc. and can get caught on your pocket at times when drawing the knife out of your pocket. Overall, the knife is made very well with a very nice fit and finish. For the price, i think the steel could be a bit better but that's really it. This is an excellent defensive knife that can ride with you at all times and pull double duty as an awesome EDC blade.
Overall:
Quality:
Ergo:
Value:
Knife:

SOG Aegis


Review by:

Polynikes07


03/09/2010
Price Paid: N/A
Use: Every Day Carry
Time Owned: 3 months

Comments:


I love this knife. SOG deep clip is great for pocket carry. I would love to see SOG start using better steels, there are just so many more out there than Aus 8, but it does the job on this knife. Great for EDC, but I would look elsewhere for a hard use folder. This one has no SS liners and the tip seems weak, although it is perfect for detail oriented tasks. Blade shape makes it an excellent slicer, good for kitchen use. For 45 bucks, it would be hard to do much better.
Overall:
Quality:
Ergo:
Value:
Knife:

SOG Aegis


Review by:

knifefan


01/20/2010
Price Paid: N/A
Use: Other
Time Owned: 1 year

Comments:


I'm sorry SOG fans. I know a lot of people like this knife. This knife really does little for me. Over all it just seems kind of cheap. A lesser quality blade steel, the pattern on the handle is functional but not attractive. I can't seem to get use to the deep bury clip. It takes me too long to get it out of my pocket. I do like the assisted open, the feel of the handle is good, I like the blade shape and flat grind. I guess overall the quality just isn't there for me.