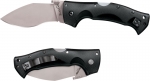 -Price Paid: $50.00
-Used for Light Duty/General
-Owned for 3 months
Comments:
This knife is a great edc/light tactical knife from cold steel for under $55. The lock up is rock solid and after dropping it and even falling on it when it was in my pocket, it had no play whatsoever. The blade is sharp out of the box and holds a really nice edge. Handle is grivory and really gives an excellent grip with all the finger grooves. At first it is a little hard to unlock the knife, but after a little use and oil, it opens up pretty fast. Only thing you have to watch out for is the blade rusting. Just make sure you dry it out nicely everyday. 3 and a half inch blade gets all your edc tasks done.
Really nice knife that wont break the bank
Cold steel again does another goodjob!