CRKT Zilla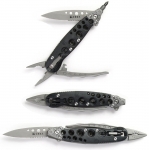 View More Pictures
Overall:
Quality:
8.0
Ergonomics:
10.0
Value:
9.0
Overall:
Quality:
8.0
Ergonomics:
10.0
Value:
9.0
Knife:

CRKT Zilla


Review by:

Mark


05/10/2013
Price: $35.00
Use: Every Day Carry
Time Owned: Greater than 1 year

Comments:


I have owned this tool for nearly 4 years. I carry and use this tool daily at work. The three main features of a multi-tool (to me) are the pliers, the screw driver ,and the knife. The pliers are easily operated with out having to unfold or slide the tool. The knife blade is easily accessed with one hand and 3" long. The feature I like the most on this tool is the screw driver. The socket on the bottom of the handle takes your standard 1/4" screw driver bit. It comes with 2 bits stored on the handle. The ergonomics of the handle puts the driver bit in the center of the handle, not offset to one side as do the more popular multi-tools.This centering of the screw driver makes the tool very comfortable to use. I carry four extra bits in a rubber holder in my pocket.

The only cons for this tool are its length (does not fold or collapse), its weight, and the poor wire cutter. Otherwise I prefer and use this tool. It has replaced my Gerber years ago.