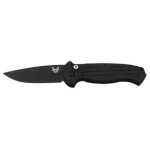 -Price Paid: $160.00
-Used for Every Day Carry
-Owned for 3 months
Comments:
I ranked this knife highly. It got 9's and 10's because it is a great knife. The improvements that BM incorporated in the AFOII really pay off. This includes a stronger spring, larger button, an open build, and a steel glassbreaker in the butt end that helps to add weight. Speaking of weight, this knife weighs in at 5.8 ounces so it has a really solid feel to it. I've had a few BM auto's in the past, but this knife feels like a real upgrade in their auto lineup.
The fit/finish is excellent on this knife with all anodizing expertly done, the handle halves come together flush, lock and opening button work smoothly, lockup is very solid, and blade is centered.
I've purchased three of these, two of the 9051's, and one 9052 (tanto). All three came with the same characteristics I noted in the above paragraph. One other thing they all three came with is a very, very, sharp blade, especially the flat ground, spearpoint 9051's. The grinds were perfect on all three.
I've been really pleased with these knives. The tanto version was given to a friend for his birthday back in December. The first 9051 I got was the coated blade, serrated version. Not a big fan of the serrations, so I picked up the second one in a satin finish, with a plain edge, and I am digging it!!
The only thing that makes this knife better than it was from the factory, is the usaknifemaker.com "STEALTH" foldover, deepcarry, pocketclip I installed. This lets the entire knife ride down inside my pocket with noone the wiser.
---
Comment by Sam 01/04/2014
Rick, when you mention the usaknifemaker.com "STEALTH" foldover, deepcarry, pocketclip, are you referring to:Ti Pocket Clip Low Rider STEALTH Formed
---
Comment by Airborne Bob 01/28/2012
This is an outstanding military survival/rescue knife. It is very well made, and made for any emergency.