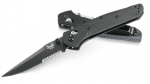 -Price Paid: N/A
-Used for Every Day Carry
-Owned for 2 months
Comments:
The Benchmade 943 has been my EDC for over 2 months now and I'm thrilled to bits! It's solid, beautiful and extremely light, elegant and dangerous at the same time. The blade is visually longer comparing to the handle.
The knife is fitted with an excellent Axis Lock which is very safe. It opens smooth and easy and has a great balanced feel. High-quality materials and indisputable quality of treatment and assembly – it's all about the Benchmade 943.
Be careful, this Obsorne knife is really sharp. The blade is made of premium steel of S30V. As for the handle, it's made of steel and covered with straps made of aircraft-grade aluminum.
I've heard that some people complain that a handle gets scratched over time. I don't have any problem with that. Of course, there are some small scratches but it's absolutely natural. The knife should work but not just lie on a shelf.