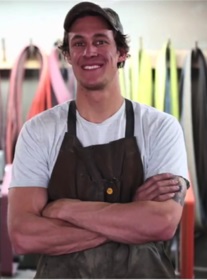 Recently I had the privilege of having a quick Q&A session with James Behring from Behring Made. James is a hobbyist knifemaker turned pro who now runs his own company and makes some outstanding knives. Rather than bore you with any more introduction, let's just get right to the interview.
Q: How did you initially become interested in knife making?
A: I was a freshman in Highschool in 1996, and was just really getting in to bow hunting, camping, fishing, and knives. My father, Jim Behring was also getting into knives around that time and really just starting to lay the groundwork for Treeman Knives. I was fortunate enough to be close to my father and get lots of great gear handed down including my first good knives: a model 16 R.H. Ruana, model 14 Randall, and a Marbles Woodcraft circa 1997. From 1997- 2005 I finished high school and college and started apprenticing with Treeman Knives in the Summer of 05.
Q: When did you make your first knife and what was it like?
A: August of 06 I finished my first two Scagel style leather /crown stag hunters. They were definitely on the crude side, especially compared to what I make today. However, I will never forget the feeling of standing in front of the Bader with that knife in my hands. And when Jason Randall of RMK bought them both I kind of knew I was on to something.
Q: What events led to your decision to make knives professionally?
A: I did pretty much every gun and knife show in the midwest and all the big shows across the country growing up. I have had a lot of great knives in my hands – Ruana, Randall, Scagel, Marbles / MSA, Cooper, Richtig, Loveless, Moran, Mudbone – all the old time greats! Working at Treeman Knives I managed the website and helped buy and sell thousands of custom knives as well. The influence was endless, however the knives I made with Dad and the style we created still holds the most influence over my work today.
Q: Who is your target audience for the knives you design? How do you cater to them?
A: With 3 full time employees we are capable of turning out some serious amounts of product. We make more knives in one month than the majority of makers make in a year, so it has been challenging to find outlets and target any one specific customer base, so we target everyone. We have a contract for 525 knives that will be distributed to each Rocky Mountain Elk chapter banquet in the US this next year, and we are working towards the same contract with Pheasants Forever. We recently had a participant on the Discovery Channel show, Naked and Afraid, carry one of our Kukri's with great success. We have teamed up with Cooper Firearms to produce companion knives for some of their finest bolt action rifles made to date, we are authorized Mathews Bows knife makers, and I personally do trunk shows at Paws Up (a luxury resort in MT) and look forward to working with Rock Creek Cattle Co. later this month for a similar private show. Additionally we are working with Sporting Classics Magazine on several projects including knife of the Year. Kill Cliff Outdoors is a recovery drink company that is popular with the Cross Fit enthusiasts as well as an up an coming powerhouse in the Outdoor Network lineup with their hunting program. We are working on some product licensing and a sponsorship with the Kill Cliff crew. Behring Made is locally involved with Pheasants Forever, RMEF, and Rocky Mountain Sheep foundation. We did a project with Orvis our first year in business, and have a few others we are working on currently.
Last December I launched the Behring Technical line. It takes a more tactical approach to the knife market and allows us to cater to the Military and those that are more into that style of knife. We are also posed to launch 3 new models from this line that target bird hunters, big game hunters, and divers specifically.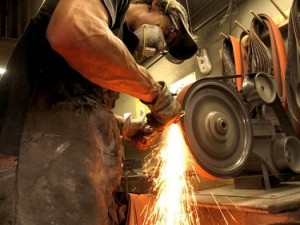 Q: What is something unique that you bring to the knife world?
I think Behring Made is unique in the fact that we can make you a custom hand forged knife to your specs with any materials under the sun, and yet have the capabilities to make 525 knives for RMEF simultaneously. We also pride ourselves in having a pro consumer approach to business. We make custom pieces without requiring a deposit, and if you are not happy with the results we will continue making you knives until we get it right. 9 times out 10 we get it right on the first try! I am the oldest guy in the shop at 31 which is pretty cool considering the typical client is in their 50s.
We are really trying not to work too hard! Living and working in Missoula, means you need lots of time to recreate. With world class fly fishing right out the back door, and millions of acres of public land to hunt and hike – we stay busy living life. We use what we make and gather our intel from personal experience. Last season we were 3 for 3 archery hunting public land for bull elk. I don't think it gets much better than that – ohh and we do it on knife makers salaries hahaha!!!
Q: What knife in your product line do you carry on your person most often and why?
A: I have 7 or 8 knives that are my current users. Most are custom handmades, but I do carry a custom shop Bushido once and a while. I did my elk with an ivory caper last year, and my spring bear with a turkish walnut MT skinner this past may. I carry a red stag Trout knife around town and to events typically – thats my dinner knife :). I like a 3″ drop point but they always seem to disappear from my hip, as inevitably some ones needs are greater than my own! I do carry a couple of Roger Mud Bone Jones knives as he has been a great friend since day one. My Treemans are on display in the shop.
Q: What one tip would you give to a hobbyist knife maker to improve their knives?
A: If you are a new knife maker the best advice I can give is ask lots of questions. Most full time guys are more than willing to share some knowledge and make the learning curve a little easier to navigate. Also, knife making is a hell of a lot more fun when its a hobby and a hell of a lot harder to keep fun when its a business.
Q: Where would someone go if they wanted more information or to purchase one of your knives?
A: You can purchase knives or contact us through our website at www.behringmade.com.