So, you're here searching for the best pocket knife! Fortunately, you have come to the right place. In this article, I will talk you through the process of finding the best knife to suit your needs. In addition, I will make a few recommendations for specific knives that might meet your needs.
For purposes of this article, let's define what I mean by pocket knife. Obviously it is a knife that is meant to be carried in your pocket. More specifically however, I am defining a pocket knife as a folding knife and as such I will be neglecting fixed blade knives and multitools, as they are outside the scope of this article.
Identifying Your Intended Use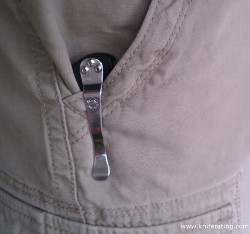 When searching for the best pocket knife, it is important to realize that the perfect knife is not the same for every person. The perfect knife for me might not be perfect for you, because the way I use my knife might be different than the way you use yours. Accordingly, to identify your needs in a knife, we must first identify your intended use.
I group intended uses into four main categories. These are Every Day Carry, Light Duty, Survival and Self Defense. Each of these categories carries their own set of requirements for a knife.
Every Day Carry:
This category describes a knife that you intend to have on your person full time. This is a knife you have to lug around with you, so attributes like weight play a larger role in your decision. Additionally, size plays a role from both a comfort standpoint as well as a legality standpoint. A sturdy locking mechanism is important because it will likely receive substantial long term use. With an everyday carry knife, you want equal parts performance, reliability and comfort.
Light Duty/General Use:
This category describes use around the house, the occasional camping trip, or an occasional carry knife. This is the most flexible category, with the widest range of knives to satisfy this type of use. You don't have to worry so much about things like weight or size, because you will only carry it as you need it.
Survival:
This describes a knife carried by someone who is remote from civilization that MUST rely on their knife as a life line. Reliability and robustness are of paramount importance. The requirements for this knife are the most stringent, far more so than those of an everyday carry or light duty knife. A survival folding knife should only be used as a supplement to a survival fixed blade.
Self Defense:
While I recognize that a lot of people use knives for self defense, hence its mention in this article, I don't typically recommend a knife as a self defense tool in untrained hands. For this reason, I will not be recommending any knives specific to this use in this article. For a self defense recommendation, I suggest pepper spray, as it can quickly and non-lethally disable multiple attackers from a distance and is difficult to turn and use against you. I will yield self defense knife recommendations to people who have the appropriate training in this arena.
A Quick Word About Features
Deployment Mechanism:
A deployment mechanism is simply the design feature used to open the blade on a knife. Two ideal traits for a good deployment mechanism are speed and comfort. My favorite deployment mechanism is the thumb hole, such as the ones found on many Spyderco knives. This hole in the blade allows you to open the blade using your thumb while holding the knife steady with your other fingers. This one is the fastest for me because it requires the least amount of grip changes. My second favorite mechanism is the flipper, such as those found on many Kershaw knives, which allows you to flip the blade open with your pointer finger by pulling on a fixed lever extending from the spine of the blade.
Locking Mechanism:
A knife locking mechanism is a design feature used to prevent the blade from closing while in the open position. Two ideal traits for a good locking mechanism are robustness and comfort. The locking mechanisms I prefer are the ubiquitous liner lock, the frame lock and Benchmade's axis lock. I like the liner and frame lock for their easy actuation and the axis lock due to the ambidextrous nature. I will demonstrate each of these in the pictures below.
Blade Steel:
Don't get too caught up in the blade steel. There are tons of steel junkies out there, who will swear by this or that. Yes, there are plenty of bad blade steels, but tons of good ones. Unless you have a particular taste, there is no need to spend tons of money on an exotic blade steel. Unless you are an extremely frequent and attentive knife user, you likely won't notice much difference using something exotic over the tried and true steels. I will note that I typically try to avoid foreign knockoff steels. Some of my favorite blade steels are S30V, 154CM, and VG10. These steels are found in many knives, starting at around the 30 dollar price point and I think getting one of these or something on par is worth the money.
Blade Edge:
Regarding the edge of the blade, there are serrated and non-serrated, also known as plain edge. I typically recommend plain edge to almost everybody, however serrated knives do have a few special purposes. If you are cutting large amounts of fibrous material, such as rope, serrated knife might make the best pocket knife for you. For everything else, stick with the non-serrated. Regarding partially serrated blades, I find that these tend not to have enough plain edge or serrated edge to be particularly useful in doing tasks designed for either.
Handle Material:
G10, FRN, Wood, Bone, Titanium, Aluminum…they are all good in their own respects. It's mostly a matter of personal preference from a feel standpoint and a cosmetic standpoint. Never tried any of them? Start with G10. It's virtually indestructible, easy to texture, water/heat/chemical resistant and light weight.
Size:
New knife purchasers often fall into the trap of bigger is better. I see many people buy a huge knife, only to realize shortly thereafter that it is difficult to carry, hard to conceal and doesn't offer any advantage over a smaller knife. In fact, a larger knife often offers a disadvantage from an everyday carry stand point. While there is no "right size" for everyone, I tend to like between 2.75″ and 3.5″ for every day carry and 3.5″ to 4″ for survival. Just be honest with yourself about what you really need, because you'll be happier in the long run with a knife that is the right size for you.
The Knives
So without further adieu, on to the knives. The following is a list of 5 knives that I think rank among the best pocket knives when all aspects are considered. I should note that my recommendations are not only based on performance, but also comfort, value, build quality and my overall impression of the knife. Are there other great knives out there? Sure. Will you be happy with one of these? You bet.
Spyderco Para-Military 2
This is the knife that I personally carry over 75 percent of the time. The PM2 has all of the features I desire most in a knife. The 3.44″ full flat ground, plain edge blade is ideal for making clean and precise cuts in anything from food to rope to paper. The thumb hole makes this opening this knife lightning fast and easy, and the knife has one of the smoothest pivots I have ever encountered. The compression lock, which is a variation on the liner lock, is rock solid and leaves little doubt that engagement will be solid. The knife has G10 scales on the handle, which are light weight and withstand pretty much anything you can throw at them. The handle is nice and long, allowing great grip and comfortable ergonomics. The price is a bit steep, but I consider the PM2 high value. And while there is nothing high fashion about carrying a pocket knife, I'll say it anyways. This knife looks downright awesome.
At 3.75 ounces, the Spyderco Para-Military 2 makes a great every day carry knife as well as a general use knife, and it does this because of the nice balance between weight, robustness and performance. The tip on the blade is a little bit thin for me to recommend it as a survival knife, but it will easily withstand any camping trip or daily carry function you can think of.
Click to read more reviews on Amazon.com
Benchmade Griptilian
The Benchmade Griptilian is a fantastic knife that I often recommend to my friends. At 3.45″ long for the full size and 2.91″ long for the mini, the blade can be had in a variety of grinds. The blade steel is 154CM, which is an awesome all arounder that has great edge holding capabilities, is easy to sharpen, and is resistant to corrosion. The knife has a grippy zytel handle, which is extremely light and fills the hand nicely. The axis lock is one of the finest in the industry and is very functional. One particularly nice feature of the axis lock is that it is completely ambidextrous. The knife has a thumb stud for deployment, but I find it more useful to pull back on the lock and flick the blade open as the stud is a touch small. A Griptilian can be had for a reasonable, but is well worth the coin.
The Benchmade Griptilian is another light weight knife, weighing in at 3.82 ounces. This one is also ideal for every day carry as well as general use. I know firsthand that the knife can take a beating, although I would want something larger for a survival knife.
Click to read more reviews on Amazon.com
Zero Tolerance 0200
The ZT 0200 is one boss knife. The 4.0″ blade is thick and robust. In fact, I'd call it bomb proof. The knife fills the hand, making grip particularly easy especially considering the great texturing on the G10 scales. The blade steel is 154CM, which again has nice corrosion resistance and good edge retaining capabilities, which in other words means that it stays sharp for a while. The deployment mechanism is a flipper, which works great, with an additional thumb stud if you prefer to use it. It deploys quickly and the action is smooth.
At 7.8 ounces, the ZT 0200 is a beast. I recommend this knife for a survival folder or for general use around the house. The size makes is cumbersome to carry every day, not to mention the blade length makes it illegal to carry in many locales.
Click to read more reviews on Amazon.com
Kershaw Leek
The Kershaw Leek is a great little knife, particularly for the price point. The blade is only 3.0″ on this one, which makes it extremely pocketable. The Leek can be had in a variety of blade steels, including composite blades where the cutting edge is different than the rest of the blade. The most commonly found steel is 14C28N, which isn't my favorite, but it isn't half bad either. While I prefer the S30V and 154CM, 14C28N is a great steel for the price point. The frame lock is awesome as it locks up great with no blade play whatsoever. The most common handle is bead blasted steel, which looks great, but the Leek can be found with other handle materials as well. The deployment mechanism is a flipper, but this one is spring assisted so it takes only a light touch to deploy the blade. The Leek is a high value for the money.
At a mere 3.0 ounces, this knife just melts into your pocket and is hardly noticed. It is a great every day carry or light duty knife, although a little small and light to succeed in a survival role. Overall, it looks good enough to be considered a gentleman's knife and it performs well enough that I can strongly recommend one.
Click to read more reviews on Amazon.com
Victorinox Soldier
I would be remiss if I didn't include at least one Swiss Army knife in my article dealing with trying to find the best pocket knife. The Soldier has some features I like over other Swiss army knives. First, the thumb hole allows you to open the blade one handed. Few Swiss army knives have this feature, and it is one I consider extremely valuable. The blade is 3.0″ and easy to sharpen, making the knife compact and easy to fit in your pocket. The knife has a plethora of other tools as well, including screw drivers, bottle openers and even a saw. The blade is stainless steel, which provides ample corrosion resistance. It has a rubber coating on the handle to allow good grip in both the wet and dry. Also, the blade locks open on this one, which is rare for a Swiss army knife. Overall, it's a great buy.
The knife weighs 4.0 ounces, which is worth it for all of the extra tools you get. It makes a great every day carry and general use knife. I wouldn't recommend this as a standalone survival knife, for similar reasons to the Leek.
Click to read more reviews on Amazon.com
In Conclusion:
One final note is that no matter what type of knife you settle on, it is extremely important to maintain your edge so it will always perform at its best. While this is outside the scope of my article, I suggest this post if you would like to do further reading on how to sharpen a pocket knife. Aside from that, hopefully this article has been informative and has helped you pick a knife, or at least gotten you closer to picking the best pocket knife for you. Remember, there are tons of great knives out there so it's just a matter of finding one that meets your needs at a price that you are comfortable with. Happy hunting and stay sharp!