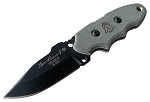 -Price Paid: N/A
-Used for Outdoor/Survival
-Owned for 1 year
Comments:
this knife is a great small survival knife. the handle has finger grooves which make the feel and weight of the knife as a whole feel amazing. this knife is great for skinning, carving, notching, drawing, and anything that needs finer detail that a bigger survival knife couldnt do. when paired with the Tom Brown Tracker (also reviewed on this site) they make a great survival knife combo. the scout comes with a kydex sheath that has a belt clip, but you can get aftermarket ones made out of leather. the blade is painted with a black epoxy to prevent rusting which is good but it makes it so you have to use the blade side of the knife with a flint to start a fire. most people probably know but if you have to use the blade side, use the tip instead of the base of the blade because you use the base the most. here are the specs.
Blade Detail: Plain
- Blade Length (inches): 3.00
- Blade Material: 1095 HC, Black
- Carry System: Kydex Sheath
- Handle Material: Micarta
- Overall Length (inches): 7.25
---
Comment by Glen 07/09/2017
Excellent knife, very pleased with mine. I bought it for every day carry. It is big enough to be effective, yet small enough to not be too uncomfortable. Well worth every penny paid.