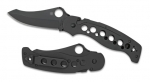 -Price Paid: N/A
-Used for Every Day Carry
-Owned for Greater than 1 year
Comments:
My girl got me an ATR. I called it my "white whale". This review is for the SS handle, VG10 steel model.
Build Quality: Absolutely flawless. The knife screams quality with every aspect. Great blade shape, sharp hollow grind. The lock deserves it's own paragraph on this knife;
The lock: It's a compression lock using the entire scale of the knife. Basically a frame lock working in reverse, making the only way this knife could fail is shearing a thick stainless steel scale. The knife has no room for wear- It just snaps into perfect lockup, every time, and always will. Even the famed paramilitary has a similar lock, but only using a liner, about half the thickness of this steel I-beam locking in place.
Ergonomics: I think the knife fits in the hand very, very well. The only complaints I hear are about the stainless steel handle (which if you don't like, don't buy this), and the clip. The clip is a strange, tight, small clip found on the lil' temp as well. It is the only reason I'm docking a point from this knife.
Value: Docked a point here, because after market prices on these things is crazy. I've seen a titanium handled, S30V version go for close to $350. The SS model can go for $150. Worth every penny, but that's a whole lot of pennies.
Overall: If you want a sharp, easy to re-sharpen, hard use, Fort-Knox-Locked, interesting, practically custom feat of knife engineering (it won an award in Blade the year it came out), buy it. If you only like backlocks and clip blades w/ G10 handles, skip it. It would be better off in a user's hands anyway.