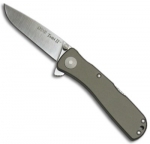 -Price Paid: $30.00
-Used for Every Day Carry
-Owned for 3 months
Comments:
I purchased my SOG Twitch II on the very last day of the NRA's Annual General Meeting in Pittsburgh (a great little knife indeed), I did so after I had already purchased a Benchmade 470 for a $130.00 (Benchmade's asking price is $200.00 and we all know how that works, you end up buying it on online for $130.00..LOL).
Keeping in mind that the Twitch is smaller and is a Lockback compared to an Axis Lock, my advise would be save your $100.00 (or more) on the Benchmade 470 and buy the Twitch II.
I have had none of the problems with the finish on the Twitch that I have had with the Benchmade 470 and the Twitch's Ergonomics are almost as good.
The speed of the spring assist is just as fast and I like the way the blade has an inbuilt finger guard that can also be used to push down on to open the knife (or flick it open by the thumb-stud, either way of opening is just as good).
The steel holds a great edge, it does work well with it's more traditional lock back and the brushed clip is fantastically strong without any issues like a BLACK Coated either rubbing or chipping (that you find on say the Griptilians).
It really only has one drawback and is the safety lock being on the spine of the knife behind the push down lock back, but to be honest with you I personally don't mind it and this would not stop me from highly recommending the knife to any one.
The reality is that I like 90% of the civilian market place use a pocket knife for every day use like opening boxes, pealing an apple or cutting some string.
We want a knife that holds up well to being clipped to the inside pocket of our jeans, that's easy to use and is VALUE for our Hard Earned Money and I verily believe that the SOG Twitch II does all that in a great compact package.
Let me leave you with one thought to ponder over, if SOG can get the finish to have NO issues on a knife that they are asking say $60.00 for, then what reason is there to pay a $200.00 asking price for a Benchmade 470 (or what the real market is at the time) and have issues with the finish rubbing off....??
I do love my Benchmades but this little SOG does have me wondering, leaves me very impressed for the money and now has me opened minded to other Brand Options like SOG.....!!!
---
Comment by G.W. 05/17/2014
I agree ! I have a Few Other EDC Blades in which to Base my opinion and the SOG Twitch ii is a Great Little knife. I think the Problem with some folks is that they want these Little EDC Blades to perform the tasks of a Bowie Knife/Screw Driver or a Pry Bar, Come on! Yes the Blade is not centered, a problem you can fix pretty much just by tightening the tension screw, I have 2 Twitch ii's and I adjusted them both where they would just "barely open" to the fully open position, it took away any noticeably wobble and the Blade was fairly well centered !