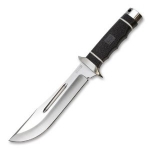 -Price Paid: $350.00
-Used for Self Defense
-Owned for 6 months
Comments:
Hello All:
This SOG Creed knife is an awesome knife; This knife came out of the box with a very hard sharp edge. I was pleasantly surprised with the Quality of the Knife build and the front and back balance of the knife. I used this knife for crocodile hunting and skinning some new baby crocodiles in the Australian Outback near Paramatta; I cut the rubbery throat of the old crocodile like a hot knife through SCS butter; effortless and skinned the tender but rubbery skin of the baby crocodile like child's play.
Outstanding knife; needs more publicity and advertising write-ups to promote its Utility value in the outback; jungle; bushes and camping grounds etc
Very hard but beautifully balanced knife.
Under-rated but could be useful in most outdoor situations.
---
Comment by Blindfredy 11/03/2015
What a load of crap. Australian outback? Paramatta? Parramatta is a satallite city of Sydney Australia's largest city and at least 1500 km from the closest outback and besides no crocs in N.S.W.