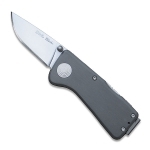 -Price Paid: $36.00
-Used for Every Day Carry
-Owned for 6 months
Comments:
The SOG Blink is one of the better mini edc knives around.
BLADE- the blade on the Blink is just over 2in. long with tons of belly and a FFG, making it slice really well. The AUS-8 steel will hold an edge well and take an edge well.
HANDLE- the aluminum handles are slick with no traction, but are strong and comfortable in your hand. I have large size hands and my pinky finger will not rest on the handle because of how small the handle is.
OTHER- the lockback design is strong, the open assist is quick, and the pocket clip is well designed.
CONCLUSION- the SOG Blink is a great pocket knife if you want something small and lightweight.