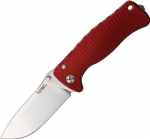 -Price Paid: $217.00
-Used for Every Day Carry
-Owned for 6 months
Comments:
Hi, I have to say I'm from Italy, so you understand the price and my "strange" English.
This is a well done cool-original EDC knife. Winner of 2010 award for most innovative design.
You can find it in 2 sizes (sr1 94 mm/ sr 2 78 mm). The SR1 with a total length of 211 mm (8,31") is the one i prefer: there's a version with an aluminum handle (mine- SR1A) and one with a titanium handle (SR1). I prefer the aluminium for 2 reasons: 1) the price is 40% less 2) Weight is about 30% less (158 gr vs 201 gr) but you don't have nice wood box and better blade steel.
The knife is tough, you feel the high quality. The blade has great look, probably to nice for some use for an EDC knife (cutting food is not easy). The linerlock is solid, and it has a nice extra: a rotoblock safety system that blocks the blade in the open position, by turning it. The screw clip is equipped with a glass-breaker. I think that this knife it will be a modern "classic", I suggest it for a nice folder collection.