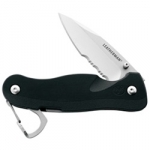 -Price Paid: $25.00
-Used for Every Day Carry
-Owned for Greater than 1 year
Comments:
This has been my edc for a couple years. The edge holds well, handle shape is comfortable for a smaller knife, and the clip is well placed (though could ride lower in the pocket).
2 things I would change - put a slightly more aggressive texture on the handle so it's not as slick. And most importantly, make the blade pivot and liner lock a bit more sturdy. It's not unsafe at all. But the blade does have some wiggle if it' set to open easily with 1 hand. A CRKT folder I've had for a few months pivots as easily, and has no wiggle when locked open.
Bottle opener / carabiner? I've used that a suprising number of times. Great feature that could only be slightly improved with a longer wire.