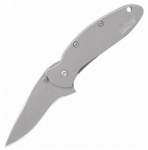 -Price Paid: $32.00
-Used for Every Day Carry
-Owned for 6 months
Comments:
This is a cool little knife.
The blade steel is 420HC which I have found to be pretty decent at holding an edge. However, the natural sort of blade shape can make it a pain to sharpen at times. The blade length itself is 2 1/4in and with it being assisted opening it comes out fast when you want to deploy it.
The Scallion does come with a safety for the blade so it won't deploy in pocket, but I think it's a feature that is not needed. I have NEVER had it just open up in my pocket. You can however tighten the safety down so it won't stop the blade from opening when you need it quickly.
The handle is nice. Made from polymide and it feels sorta like a tough rubber. It probably could be a little more aggressive just for added grip.
It also uses a liner lock that has a good solid lock up, and that is easy to unlock when you want to put the knife away. The clip is fixed to one side of the knife so you cannot change it. You can remove it though if you wish to carry it without the clip.
For the price I think this is a cool little knife that looks and feels great in hand.