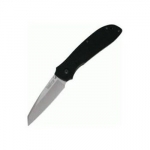 -Price Paid: $40.00
-Used for Every Day Carry
-Owned for Less than 1 Month
Comments:
I like many of Kershaw's designs but I'm not the biggest fan of flippers, so the Random Task II looked like a dream come true. At first blush, this knife looks very closely related to the Skyline; they are of similar dimensional size and marry stonewashed 14C28N blades to G-10 handles, but there are several major differences, the most glaring of which is weight. The Skyline weighs a lithe 2.5oz, while the Random Task II comes in at a chunky 3.8oz and has a considerably thicker G-10 handle with nested steel liners. It's not a boat anchor but I do notice it in my pocket, especially when I'm accustomed to carrying a Spyderco Delica4.
Ergonomics are where this blade really stumbles. The Random Task II has a scaled-down version of the Kershaw Blur's thumbstuds. While this textured ramp design was very well-executed on the Blur, applying it to this knife has exposed some flaws. The blade's shorter moment arm and smaller size overall make the ramped thumbstud dig uncomfortably into my thumb; their angle and size just don't interface with my thumb as well as the Blur's thumbstuds do. I think that borrowing the Leek's more conventional thumbstuds would be a much better fit on the Random Task II. Nevertheless, the SpeedSafe assisted-opening mechanism snaps the blade out with authority and once the blade is open the ergonomics are quite good. I'd prefer more aggressive jimping on the blade/handle spine, but the weight and textured G-10 handles are confidence inspiring enough for daily cutting tasks.
Build quality is typical of all Kershaw's USA-produced knives I've encountered: Outstanding. I can't find any flaws or stray machining marks anywhere. Lockup is very solid and the blade is only slightly off-center when folded. The factory edge is serviceably sharp and the secondary bevel is passably even (shallower toward the tip, like many mass-produced blades).
I'm still searching for my EDC "holy grail" (and probably will be until I make the leap to a built-to-my-specs custom folder). Though the thumbstuds are a drag, the flipper-free SpeedSafe and reverse tanto blade are sufficiently cool to earn a place in my collection.