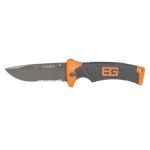 -Price Paid: $30.00
-Used for Outdoor/Survival
-Owned for Less than 1 Month
Comments:
I purchased this knife (not because I am a fan of Bear Grylls) but because I had seen a lot of good reviews about it so I figured I would check out all the hype. When I opened the box, the knife was VERY sharp! When I put the knife in my hands, the grip on it just feels AMAZING! You can have anything on your hands (oil, water etc..) and this knife is going to stay put and you are going to have comfort doing any task at hand! I figured I would perform a few cut tests on it cuting various pieces of wood. It cut right through them everytime and never game me a hiccup. I did not do any splitting tests but I did chop at a little bit of wood (maybe about 20-30 chops) and the blade was just eating away at anything that got in its way. When I finished, I noticed the back bottom end of the frame was starting to come apart already! It wasnt literally about to break apart but with more moderate use, I think it will eventually end up splitting. I put that thing back in the box and took it back to Academy! This knife if marketed as the "survival series" and I do not think that it will hold up if you have to actually use it for any long term survival. It might do okay in a 3 day "bug out" bag but im not sure if I would trust it beyond that. If you purchase one of these, or are thinking about purchasing one, I suggest you inspect it very closely and make sure it will hold it up when you need it most!
---
Comment by matth 04/21/2013
gerber may have fixed the issues but the steel is the dullest thing i've had won't hold an edge ....
---
Comment by Stuart 06/15/2012
Yup, I had one of these knifes...Gave it away and bought another Ka-Bar Warthog folder!
---
Comment by Jeremy 01/04/2012
Gerber has since then fixed the issue you were having on this knive.