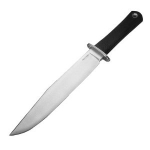 -Price Paid: $220.00
-Used for Outdoor/Survival
-Owned for Greater than 1 year
Comments:
I guess this would be considered a very long term review. The price paid is a guess because I received it for a gift. I have seen many custom pieces on the market that can't hold up to this knife. I have had this knife for 15-18 years. I have used it for camp outs, wilderness survival merit badge (I'm scoutmaster and counselor), etc. This knife is tough and can adapt to any chore.
This is one of my knives I'd want if the chips are down and I'll have to survive long term. I have prepared food, chopped wood, built shelters, built fires, traps, snares, firewalls, and never had a problem. This knife holds an edge forever and sharpens easily.
The Kraton handle is easy to grip even when wet. The carbon V steel doesn't chip. If you whip down the blade with a tuff cloth, rust isn't an issue. My sheath is a thick high quality leather. Due to the bowie style blade, it can chop as well as a hatchet without destroying your hands. It's a knife that will be passed to your grand children.
---
Comment by Craig Voorhees 01/19/2012
The sk5 model is ground back back father along the top of the blade and the knife weighs an ounce less than the carbon v model. It doesn't chop as well. The plastic sheath is so hard it takes the edge off every time you unsheath it. It also scratches up the blade and guard when you resheath it.