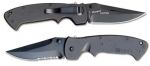 -Price Paid: N/A
-Used for Every Day Carry
-Owned for Greater than 1 year
Comments:
One of the best values going for an everyday carry/self defense knife. The ergonomics of this knife are superb. It seems whichever way I hold this knife, it melts into the grasp. I was suprised to see no reviews for what is a fabulous factory knife. Build quality is typical CRKT. Very good, but not custom, and as with many CRKT knives, many of the small screws work loose quickly. It locks up well, and releases easily, but only when I want it to. Exceptional value.
---
Comment by Erik 06/17/2013
I have many knives from the last 20 years including Buck, Kershaw, and Schrade among others. I have to say that this knife is the one I choose to carry around every day. The function which allows you to lock the blade into the open position is awesome.