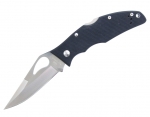 -Price Paid: N/A
-Used for Light Duty/General
-Owned for Greater than 1 year
Comments:
After owning a few of the pricey Spyderco knives, I threw together a few dollars to purchase some of the Byrd series knives as well. I own the stainless steel handled version.
Keep in mind that this is an absolute scale of ratings.
Build Quality: The knife is perfect. Centered blade, decent grind, sharp out of the box, rock solid with no play in any direction. The pins holding it together are peened and expertly sanded to match the handle. This one screams for engraving. The clip is also a very good clip, not seen on many other byrd or spyderco knives. The steel is their 8Cr13MoV, which I find acceptable for all things which a knife should be doing. It is extremely easy to get sharp and although it will dull easier than others, a good stainless nonetheless. The actual blade shape is a nice, pointy clip with little belly and a swedge.
Ergonomics: The handle is machined expertly, but without any jimping on the top of the blade, especially slippery. Because the handle slabs are steel, although chamfered slightly, the inside can dig into your fingers a bit. The negatives being said, the knife fits my medium hand like a glove, and I'm sure that the G10 version would be a better choice for comfort.
Value: The single greatest deal I've found in the knife world. Period. Better than the Cara-Cara, better than a Delica, Kershaw Leek, Buck 110, Boker Wharcom, and WAY ahead of the Benchmade Red Class.
Overall: If you're on a budget, and want the single best knife for your money, buy this one. If you want to pay 3x as much for a steel upgrade, you're welcome to. I recommend buying one for a friend, one for your car, and one for the toolbox. But don't forget your pocket.