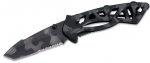 -Price Paid: N/A
-Used for Other
-Owned for Less than 1 Month
Comments:
REAL JUNK... Don;t waste your money, blade was dull out of the box, feels bad in the hand, UNSAFE. I destroyed mine and trashed it. Be better off with a rusty nail in your pocket.
---
Comment by Dennis 08/22/2016
So you replaced your kids 20 dollar knife with 150 dollar knife and it's better? No kidding.
---
Comment by Bass Chaser 02/28/2014
There is nothing wrong with this knife. Very solid, tight construction and was spot on sharp right out of the package. Knife gets a solid 10 rating from me.
---
Comment by doc 01/11/2012
You ever hear of a knife sharpener?
---
Comment by Duke 09/09/2011
I could not agree more. My son had one, I trashed it on him and got him a Benchmade Griptilian. I don't know what happened to BUCK.