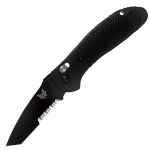 -Price Paid: N/A
-Used for Every Day Carry
-Owned for 1 year
Comments:
Here is my review of the Benchmade 553SBK and SOG Trident Tanto
The Benchmade blade is just over 3.5" and is a combo blade. The axis locking system is incredibly secure with almost NO back and forth movement - a very stable blade. The blade locks in place with a similar sound to that of a mag slammin into a gun. The grip is solid and fits well in my hand. The handle is just over 4.5" and clips easily into my pocket. I was concerned with the length of the handle would be too big for any everyday carry, but it is not. The knife has performed well with easy tasks (cutting vegetables, paper, boxes and opening Christmas plastic wrapping). Cutting small branches, rope (all types), prying off lids (tanto blade adds strength to the tip) and all my other chores, the blade has performed admirably. The blade is 154CM steel and should hold an edge well and is easy to sharpen.
This is a solid knife and will provide years of solid service.