Lone Wolf Drop Point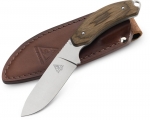 View More Pictures
Overall:
Quality:
9.0
Ergonomics:
10.0
Value:
10.0
Overall:
Quality:
9.0
Ergonomics:
10.0
Value:
10.0
Knife:

Lone Wolf Drop Point


Review by:

W. T. S.


05/05/2012
Price: $60.00
Use: Outdoor/Survival
Time Owned: 1 year

Comments:


First off, you are getting a Benchmade USA made knife for under $100 dollars. Overall, the quality is what one would expect from Benchmade. The wooden scales are solidly mounted to the tang of the knife. The gimping is nice and sharply cut, but does not grip the best. the finish is nice and shiny and the knife comes very sharp out of the box, but not quite shaving sharp. The sheath included is also of very high quality and should hold up nicely over time. The knife fits extremely comfortably in the hand thanks to the curved design and gives you a lot of control for all kinds of cutting. If you are looking for a general utility use fixed blade, light duty camp knife or a good dressing knife, this is a good option for around 60 dollars.