CRKT M16-13Z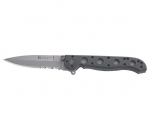 View More Pictures
Overall:
Quality:
7.3
Ergonomics:
7.6
Value:
8.1
Overall:
Quality:
9.0
Ergonomics:
7.0
Value:
9.0
Knife:

CRKT M16-13Z


Review by:

Mike Charles


06/17/2014
Price: $58.00
Use: Every Day Carry
Time Owned: Greater than 1 year

Comments:


I've owned 3 of these knives and the only reason I don't anymore is because I keep giving them to family members who need a solid dependable blade. The quality of the knife itself is great and mine seems to hold an edge fairly well. It dulls from razor sharp to "working sharp" fairly quickly, but stays working sharp for a long time and can be brought back to razor sharp with a few passes on a sharpening steel. The only advice I would give a new purchaser of one of these knives is 1) find the position you like for the clip; then use red Loctite on the screws or they WILL get loose. 2) if you want a better grip use a dremel tool and small cutting disc to checker/crosshatch the handle. I own the wood pattern version of the m16-13z and it came with smooth grips. The checkering resulted in MUCH better grip when wet, oily and/or bloody (yes, it's been all three at once). 3) If you own the autoLAWKS version DO NOT take your knife all the way apart unless you are mechanically inclined and have nimble fingers. Average people will be able to get the knife back together and functioning, but chances are the "auto" part of autoLAWKS will not function. It's a fiddly little spring that's best left alone in my humble opinion.

Overall, its an excellent knife with a fast dependable opening action, and a blade lock that you can visually inspect to make sure it's functioning (which is primarily why I prefer it to the SOG Flash II, amongst other reasons). The extra money for the autoLAWKS is definitely worth it. The one I own right now has spent so much time in my hand and my pocket that the wood pattern on the flakes is worn away, but the autoLAWKS still works great, and its nice to have the extra assurance when you really have to bear down on something, that the blade is gonna stay in position. Maintenance wise it's a pretty simple keeper. When the flipper seems to slow down from the speed you set originally just throw it in some hot water with dish soap, soak for an hour, scrub with an old toothbrush to get the worst of the gunk, rinse, dry, a couple of drops of gun oil, work the blade back and forth to get the oil in there and work non water soluble dirt out, wipe the dirty oil off, add a couple drops of clean oil and a light coat to the blade and put it back in your pocket. Do that every three months and you're highly unlikely to have any mechanical problems with this knife. I've already bought 3 of these knives and can say with perfect confidence I will definitely buy more if they keep making them. If you make the small changes to it that I suggest you get a lot of knife for not very much money.
Overall:
Quality:
9.0
Ergonomics:
9.0
Value:
10.0
Knife:

CRKT M16-13Z


Review by:

Nic


06/02/2012
Price: $22.00
Use: Light Duty/General
Time Owned: Greater than 1 year

Comments:


I went to clean this knife today and realized I'd owned it for over 7 years. Figured that warranted some online praise. Picked it up at Walmart for around 20 bucks, so I may even own a cheaper variation produced for mass department store sale. Opens fast, grips well, stays sturdy, and when properly sharpened it's a razor.
Overall:
Quality:
5.0
Ergonomics:
8.0
Value:
5.0
Knife:

CRKT M16-13Z


Review by:

Jon


03/30/2012
Price: $55.00
Use: Light Duty/General
Time Owned: 6 months

Comments:


This knife brings up some mixed feelings. The design is good and the knife locks up solid. It is lightweight and easy to use. However the steel used is AUS4 a low quailty steel. The steel is very soft and will not retain an edge well. It also will rust very easy. I had this in my pocket during a rain storm. Later that night I saw rust spots forming on the blade and liners.

So while it dulls quickly and no real resistants to rusting, the upside is that it sharpens back easy and will get very sharp.
Overall:
Quality:
6.0
Ergonomics:
7.0
Value:
7.0
Knife:

CRKT M16-13Z


Review by:

Alex


10/22/2010
Price: $55.00
Use: Every Day Carry
Time Owned: Greater than 1 year

Comments:


This knife was my EDC for almost two years. It started out well -- the handle is comfortable, and the blade is well-designed -- but after a while, screws started coming loose on their own, and it became apparent that the blade didn't hold an edge for very long, even under light use. There is a nifty secondary lock that you can activate to lock the blade in place while it is in the open position, but the thumb stud used to activate the lock fell off after a year, and now it's a pain to use.

Overall, a good value, but don't buy it for the long term.
Overall:
Quality:
7.0
Ergonomics:
8.0
Value:
9.0
Knife:

CRKT M16-13Z


Review by:

jimbo


01/16/2010
Price: N/A
Use: Every Day Carry
Time Owned: Greater than 1 year

Comments:


i edc'd one of the earlier models for over 4 years, beat it up pretty hard and was very happy with it. it had the regular LAWKS system and an aus8 blade, it was a good stout piece. the blade didn't hold a great edge but for a sub $30 piece it was awesome. i bought another to replace this worn one out and was VERY DISSAPOINTED. i hated the AUTO-LAWKS system and the finish on the blade was very poor. i ended up selling it without even giving it a shot. i still have the early model but dont carry it anymore.
Overall:
Quality:
7.0
Ergonomics:
7.0
Value:
9.0
Knife:

CRKT M16-13Z


Review by:

Alex


11/27/2009
Price: N/A
Use: Every Day Carry
Time Owned: Greater than 1 year

Comments:


I bought this knife primarily for its looks, having no other knives by CRKT. It is a great knife in terms of looks and durability if you like slim, tactical folders. Every part of it stood up well to EDC wear for three years, although I take good care of it (full disassembly/cleaning at least once per 2 months). My initial concern were the Teflon spacers that most inexpensive knives have instead of phosphor bronze or another hard wearing alloy. However, they show no wear signs at all. The open, skeletal nature of the knife makes it impossible to use it on the beach, because the sand gets in freely and destroys its smooth action. The biggest disappointment was the blade. While, by my experience, AUS8 is a decent steel, at CRKT they managed to give the blade a pretty bad tempering. As a result the blade does not hold an edge well even after relatively light cutting tasks. For a while I even had some unprovoked blade chipping, but that seemed to wear away eventually. I could have just been unlucky and gotten the runt of the litter but it still makes you think... Obviously, as with any tactical folder, expect the knife to be bad at cutting food because of its thick and sharply-angled blade cross-section. But again, it is one great looker of a knife. Disregarding all its flaws, it is still in my EDC rotation along with knives that are up to seven times more expensive.
Overall:
Quality:
8.0
Ergonomics:
7.0
Value:
8.0
Knife:

CRKT M16-13Z


Review by:

Ben


07/27/2009
Price: N/A
Use: Every Day Carry
Time Owned: Greater than 1 year

Comments:


I've owned the CRKT m16-13z knife for about 2 years now. This is actually the second one I owned since the first one was lost when I went on a fire department ride along. So far I've been very satisfied with this knife. I really love the blade shape, the autoLAWK feature, the steel that is used as well as the quick open feature. The knife seems to stay sharp for a decent amount of time even with heavy use.

The serrations have also stayed sharp, although if I were to buy another knife I think I would just get a plain blade. I think that this knife is primarily a work EDC knife, but I could also see it functioning in a self defense scenario.

Right now my only gripe is the autoLAWK system seems to get dirt and grime where the blade pivots. I noticed this whenever I go to the beach so I've stopped taking my knife there when I go. I once took apart my blade to clean it out and I could barely get it put back together.

My only other complaint is you cannot switch which side the pocket clip is on. Right now it seems like it is not in a very intuitive place, I would much rather have it be on the other side of the knife so I could carry the blade tip up when closed. That would add to faster deployment. Not a big deal, but sizable enough to mention.

The grip is also not very good. I believe the handle is made out of aluminum which is fine when you are in a dry situation, but if you get mud, grease or blood on your knife I think you will have a hard time holding onto it.

Overall it is a very good knife and it is the one I carry with me every day. It sharpens easy and holds an edge well, and the autoLAWK feature, although complicated, gives me a lot of security since it makes the knife a virtual fixed blade by utilizing two separate locking mechanisms. For the price I think it is a great knife for your average joe.