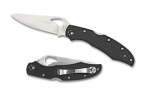 -Price Paid: $40.00
-Used for Every Day Carry
-Owned for 6 months
Comments:
I read in the Spyderco catalog "let byrd knives surprise you" and the byrd really surprise me!
What can I say - one of the best every day carry folder which i have. Two things for me are real cool and make this folder one of the best in it's category - the blade shape, extremely suitable for all king of tasks and the groove between blade and handle for index finger. Some people compare Cara Cara with Endura but Endura have not such groove which is extremely useful for every day uses
The steel is China, 8Cr13MoV analogical to Japanese AUS 8 with sharpening angle 20 which is however less durable but make blade more usable for fine works. The content of carbon however is high enough so the edge holding is surprisingly good.
The handle is ergonomic but not so much as Cold Steel Spartan for example. Thats why I pointed with 9
Unlike Spartan this is really handy big enough but not too heavy, clumsy and heavy folder. As i say - the best every day carry folder.
Solid lock, no blade play and all of this - for really affordable prise
So if you don't mind that your folder is China made - buy it and will be no regret