Find the Best Pocket Knives!
Welcome to Kniferating.com! We currently have 1196 knives listed and 1974 knife reviews! The purpose of this site is to provide a venue for knife reviews that is free from the bias of any one person. Whether you are a backpacker looking for the best survival knife, an LEO looking for a good tactical knife, a boy scout trying to choose the best folding knife or multitool, or just an average joe looking for the best pocket knife for every day carry, we have you covered. In addition, we also discuss fixed blade knives, hunting knives, combat knives, machetes, self defense knives and a whole lot more! Please take a few minutes and help your fellow knife enthusiasts by writing a review of one or all of your knives!

Below is a chart showing the best knives on the site as reviewed by users. Each of the following knives is absolutely top quality and gets our highest recommendation. Keep in mind that there are many more great knives out there, but if you can't decide on a knife after searching the site, choose one off this list and we promise you'll be happy!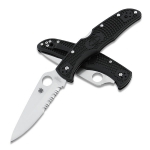 -Price Paid: $50.00
-Used for Every Day Carry
-Owned for 6 months
Comments:
I love everything about this knife this is what makes Spyderco what it is today. This is the perfect EDC very sharp, very well built. Nice strong handles. Thick spine on the blade, nice pocket clip. Very easy to deploy for me this blade is just like eye candy. I want to say this is in the top 3 of my collection of EDC. I would give it a perfect 10 if it had G10 scales.

-Price Paid: $39.00
-Used for Outdoor/Survival
-Owned for Greater than 1 year
Comments:
Well this is another flagship of the Buck brand the fixed 119 special bowie style knife. What can I say I love everything about this knife. But it might get slippery when wet, its a great knife overall. Good for camping, hunting, fishing and self defense. A good all around fixed blade that stays sharp. Great leather sheath with the right fit.

-Price Paid: $29.00
-Used for Outdoor/Survival
-Owned for Greater than 1 year
Comments:
This is a great classic knife, I can say that at least one person you know owns one or had one. This is a great design lockback strong, 420HC clip point blade very sharp. Brass bolsters wood inlays. Nice black leather sheath with a nice fit. It is on the heavy side but I don't mind it and it fits nice on the hand. It has more of a setimental value than anything. If you only going to buy one folding Buck in your life this should be it.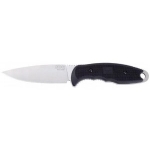 -Price Paid: $20.00
-Used for Outdoor/Survival
-Owned for Less than 1 Month
Comments:
This a pretty awesome knife I got lucky and got in close out for $20 this is an $80 knife but you can probably still find it for $50 or so. This model has been discontinued by SOG. It is made of AUS8 steel made in Taiwan very sharp. It is full tang nice leaf shape blade very nice ergo handle with jimping where it counts. The only down fall to this knife it is the sheath the velcro strap doesnt hold it right if running or climbing or hiking you might loose it. The tip of the blade is a little thin for my taste but maybe some may like it for detail work. Overall its an awesome knife for the outdoors not a survival in my opinion due to the thin tip, but great for camping chores.

-Price Paid: $27.00
-Used for Every Day Carry
-Owned for 1 year
Comments:
This a love it or hate it knife for some. Its design doesn't appeal to many. But for some reason I really like the sogzilla, I got the black Ti-Ni at first then ordered the serrated in black, the red with plain edge and the green with plain edge. It gets the reputation of a spyderco knock off but there are many differences. The blade looks like a sheep foot, very sharp out of the box. It deploys easy with your thumb and snap of the wrist. Its has a very thin profile and a great pocket clip it seats low in you pocket. Nice ergo glass reinforced nylon scales, dont slip easily good grip. Its a good EDC knife once you use it you will like it.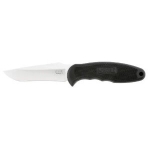 -Price Paid: $15.00
-Used for Outdoor/Survival
-Owned for 3 months
Comments:
This is the bigger field pup, its full tang with a larger blade and handle. The blade its made of 8CR13MoV it comes razor sharp, its made in china and comes with a leather sheath with a good fit. It has a nice ergo handle very comfortable made of krayton. Its a good camping outdoors knife. I got this on clearence at my local spoting goods store but you usually find it for around $30.
---
Comment by Morgan 04/03/2015
Just bought a field pup II at dicks sporting goods for $19.99, they have been this price for about a month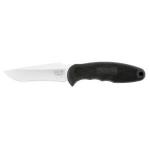 -Price Paid: $15.00
-Used for Outdoor/Survival
-Owned for Less than 1 Month
Comments:
A nice medium duty knife the first series with a nylon sheath were made in taiwan with AUS8 steel. The one with the leather sheath is made in China with some cheaper 7CRsomething steel. The knife looks nice feels good on the hand, due to the shape of the blade its more difficult to sharpen but not a big deal. The China made, the one I got has soft steel. Its a nice knife design but needs better metal maybe the 8CR13MoV at least. Overall if you find it for less than $20 its OK I wouldn't pay more. Good camping knife not a survival even if it is full tang it lacks the metal strength.