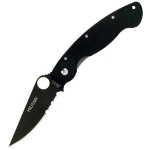 -Price Paid: $230.00
-Used for Every Day Carry
-Owned for Greater than 1 year
Comments:
I have been carrying a Spyderco Military for about a year and a half now. I started with the base model with the G-10 handle, for which I paid about $130. I was so happy with it I "stepped up" to the titanium handle version, for which I paid about $230. Both have the non-serrated blade. The main reason that I went to the titanium handle was personal preference, mainly because the smooth metal handle slips in and out of my pocket easier in the types of clothes that I usually wear. Both knives were extremely sharp right out of the box and the fit and finish on both was excellent. I've used the Military almost daily for everything from opening boxes to slicing watermelon. It has performed flawlessly and I couldn't be happier. The steel holds an edge very well and neither knife has shown any sign of rust despite almost daily use in a very humid environment. Both the G-10 and titanium handles are very comfortable and fit my hands well. However, the G-10 is not slippery at all and definitely gives a better grip. Although it's a relatively big knife, it carries well with the pocket clip. The G-10 version is lighter than the titanium version.
I would like to point out that both knives lock up very well, but at first the titanium version's lock was extremely tight, but after some wear-in time it smoothed out nicely.
In short, I believe this is a great general purpose pocket knife and I'm sure I'll be carrying it for the foreseeable future. I'm satisfied that it's absolutely dependable.
I highly recommend this knife to anyone who wants a large folder that's easy to carry.