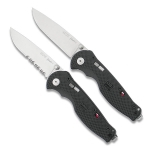 -Price Paid: $70.00
-Used for Every Day Carry
-Owned for 3 months
Comments:
The scores are based on the price. Mine is a drop-point straight edge.
I have worked as a chef for a number of years. I know my knives and my steels. This is my all purpose for around the house and at work for the jobs that don't need a cooks knife (cutting bags, cardboard, binding bands
Build:8. Only because I'm wary of plastic handles. I like to see the frame (or tang on a fixed). Otherwise the build is great. It hasn't even needed the pivot tightened in 3 months. The lock feels secure, and it opens with a confident thunk.
The AUS-8 steel is a nice balance between holding an edge and ease of sharpening. After sharpening it only takes a bit of stropping and it's good as new. When sharpened and stroped with diamond paste I can shave with it. It's not VG-10 or Cromova 18, but it's not bad. Besides, raise the quality of the steel would have raised the price and I want a work horse not another Yanagi sashimi.
Ergo: Good. I wish I could fine tune the thumbstud, and the top of the handle could have a more agressive pattern, but over all it's good. It doesn't jump into my hand from a clipped position, but I can easily pull it from a pocket in the ready position. The handle is quite square but doesn't hang up in a pocket.
Value: I love the knife. It's beyond EDC, I feel naked without it. I've spent many times more on high end cooking knives. But my Hon Yaki's aren't EDC friendly. This knife is like a good dog, you can rely on it. And if I lose it for some reason it's not expensive to replace.
Overall:10 I love the knive. Good edge, good handle, convient assist and it looks good.