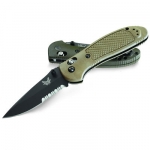 -Price Paid: $75.00
-Used for Every Day Carry
-Owned for Less than 1 Month
Comments:
I bought this knife brand new from a local Benchmade dealer. The blade after opening the package was DULL! I also have blade play. Benchmades quality control is terrible. Why can I purchase a chinese made HK Ghost knife from big 5 for $25 and its scary sharp, and has a more solid lock up? Benchmade is garbage... Step it up Benchmade. Ill try spyderco..
---
Comment by Mike 01/16/2016
You bought a fake. Benchmades are the best production folders you can buy. P.S. : I have 9 Spydercos so I know.
---
Comment by Ding174 02/25/2015
ya fake review. Unless he bought a fake replica from a shady dealer. Probably paid 15 dollars and thought it was a good deal. Sssucker
---
Comment by Willie 06/16/2014
Ya o.k blade play and a dull knife was shipped to you, and customer service did not help you out as a valued customer? Kind of impossible to believe from Benchmade, this review is fraudulent .