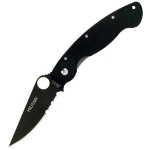 -Price Paid: N/A
-Used for Every Day Carry
-Owned for 1 year
Comments:
I've had my Military for about a year now, and its amazing I haven't thrown the thing in the trash yet. I suppose it might make a decent trade to someone that isn't familiar with this POS knife.
Frist, out of the box it wouldn't slice paper. The blade grinds were uneven. Dull as a butter knife. Aftr a few hours on some really good stones, I finallt got it to slice copy paper. The edge retention was horrible.
Then there was the issue of the off-centered blade. I worked with it for a few weeks, off and on, to get it right, but finally gave up and decided to carry it for a while.
After a few annoying weeks of carrying this thing, I finally gave up. It stuck too far out of my pocket, the clip was crap and sisn't hold the knife properly, and it was just uncomfortable to carry and use.
I know I could have sent it back in to Spyderco, but after paying that amount of money for a knife, I decided I just didn't want to fool with it.
Sadly, it was my first (and last) experience with Spyderco. Since they all look alike, I've learned a valuable lesson: don't take the word of a bunch of people on a forum that scream Military whenever you ask for suggestions for a decent knife. I'll stick with Benchmade and Kershaw from here on out.