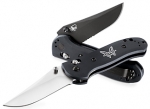 -Price Paid: N/A
-Used for Outdoor/Survival
-Owned for Greater than 1 year
Comments:
I've had a 72X for about ten years now, it's wear resistance is great, the blade shape lends itself to utility quite well.
I've had two of them one in ATS-34, the other in 154CM, both steels have great heat treatment.
The steel holds a razor sharp edge well enough for me to shave with a couple times.
It is comprised of steel liners with either G-10 or aluminum handles, uses T-6 and T-10 Torx bits for easy breakdown.
Some say that Omega springs used by Benchmade are the weak point, I disagree, I have never in 10 years of owning several Benchmade knives ever had an Omega spring break.
This pocket knife is worth every penny I paid .