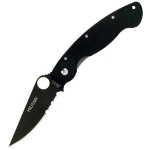 -Price Paid: N/A
-Used for Outdoor/Survival
-Owned for Greater than 1 year
Comments:
The famous mili has redefined the market for folders with his nononesense approach in design, handling and durability. I like the liner lock, some people don't but I've never had any issues with it.
Mine, BG42 and CF handles, came razor sharp out of the box and has been a beloved compagnion for almost three years. The CF handle is slip resistant and the knife opens and closes easily, some might say too easily.
Possible improvements:
1. The handle is too big compared to the blade size, making the handle smaller would not compromise ergonomics.
2. Blade is not fully centered when closed.
3. The knife would be more robust if the liner lock and its casing were on both sides of the handle.
4. The handle could be thiner when comparied with similar knives from other brands.
5. The open design makes cleaning easy except were they put a plastic piece in, why they did that remains a mistery.
6. The blade has almost no belly, some tasks become uncomfortable.
---
Comment by Matt 03/27/2011
FYI, you can adjust the screws on the handle of the Millie to get that blade centered when closed. The screws are T8 torx, and you can get the tool on the cheap from Amazon or Sears. Use some care though, because they are easy to strip. You also may consider using some NON-PERMANENT thread locker(for example locktite), but just a VERY small dab to keep the screws from backing out.