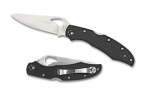 -Price Paid: $23.00
-Used for Light Duty/General
-Owned for 3 months
Comments:
terrible qc from the factory. blade is so thin i am afraid to use. difficult and painful to one hand open. design is good but that means nothing unless made well also.
---
Comment by Bubba Jim 06/24/2016
If you would buy some of the "Barber Shop" oil that is used on their razors, it would allow you to flip the knife open easily, without using the "Bird". Put the oil on the joint and the lock back, work it in good. After doing this you should be able to quickly flip it open. By holding the knife tightly and moving your arm down and slightly to the side and rear, fast. The blade will open if you practice. This is the fastest way to open this knife when drawing it from your pocket. I learned how to do this in a self defense class. Practice this move and you will be able to do it, it takes several tries but, practice. Most Spiderco knives can do this but, you must put the oil on them to make them slick enough. Hope this helps.
---
Comment by Max 11/25/2015
They are supposed to have thin blades, it's not a pry bar, go ahead and use it for regular knife chores and see how you feel about it then.If it's painful to open you haven't got the maneuver down yet, the lockback Spydies need a longer thumb throw in order to get the blade moving fast enough to fully open, and you'll still need to let a little play happen in your wrist at the end of the opening motion to help out, but it shouldn't be a huge arm flick, just a little roll in the wrist as you finish the thumb throw.
---
Comment by Nico 10/27/2015
Probably a fake.