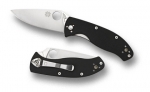 -Price Paid: $30.00
-Used for Light Duty/General
-Owned for Greater than 1 year
Comments:
I originally purchased this knife two years ago in a knife shop purely on it's looks and that it was a Spyderco. I didn't even notice it was made in China until after I got it home nor do I care too much about that though I always prefer American made when I can get it but if a certain product fits my personal criteria and needs, then that is what I will use.
I do not rate a knife keeping price in mind, good is good bad is bad, price does not matter. First the knifes steel is the most common complaint about this knife. The 8cr13Mov is the Chinese equal of 440c with very minor differences. There are certainly newer and better steels out there but this steel is far from junk. No, it does not hold an edge like 154cm, VG10, or S30V but it is very easy to sharpen and the Tenacious blade is very easy to get scary sharp. The flat ground blade, ergonomic handle, ease of open and tight lockup of the blade make this knife a cutting beast. I open a dozen boxes a day with this knife at work along with paracord, and all other normal daily cutting tasks. I use this knife a LOT in the kitchen as well as it is one of the better knives I have ever used for cutting meat and veggies. Though this knife is used dozens of times a week it usually only needs to be sharpened once a week and that is just a few strokes from my DMT course stone I have used for 20 years. If you know how to sharpen a knife properly it will hold an edge fairly well under normal use. Even after being opened and closed thousands of times the lockup is still rock solid on this knife. I have all my life opened and closed my knife as a nervous habit while watching TV so my knives are opened and closed many more times in a month than most will ever see.
The G10 scales are nice and grippy without gouging your hand and the gimping on the ramp of the blades spine is nicely done making them very useful not just for looks. I use a lanyard so the tube that runs through the handle makes it easy to run paracord through and has no sharp edges around the hole that cut into the cord.
I have 4 of these knives, three combo blade including my EDC and one plain blade so I have more than one to compare the fit and finish and overall quality. The quality of each has been very equal among all four. The only issue I ever have with any of them, especially my EDC is I must tighten up the pivot joint every few months probably due to the over use of opening and closing of the blade.
I would prefer VG10 steel in the blade but other than that this is an excellent knife for daily use, kitchen, camping or hiking with above average quality. I have had many many knives over the years from very low quality to the highest of quality. This knife ranks well above average however it is not a Zero Tolerance, Benchmade, or Strider so don't expect it to be, but it is far superior than most of what you will pay $75-$100 for at your local Wal-Mart or sporting goods store.
---
Comment by UA 04/01/2011
I bought the Tenacious on looks alone as well. Easily one of the most attractive blades on the market.