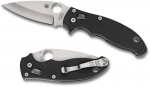 -Price Paid: N/A
-Used for Other
-Owned for 6 months
Comments:
To the point, the Manix II is a decent offering from Spyderco, it has excellent handling characteristics, a decent level of build quality for the money spent and so on.
However, it comes with warts, this knife is rated as hard use, the lock is also rated as hard use, but you'd be a fool to use this blade for much beyond show & tell.
The tip is far to fragile, in fact its paper thin, I saw a review on the Spyderco forum, in which the blade had been thrust into a phone book, I promise you, the tip will stay behind, if you attempt such shennanigans of your own.
Also, while the lock up is solid, there is side to side play of the blade, something I despise in a folding knife. While the ball bearing works well at preventing slipping, it is quite weak back and forth, enough so that I see little difficulty in it failing at any prying task....
I think Spyderco does a diservice by hawking this as a hard use knife, honestly, it's a deception that is really a lie....
---
Comment by Tom 06/22/2015
Several things wrong here. First of all the blade play is probably due to a lose pivot screw because the manix 2 is literally known for its rock solid lock up. There is currently a story about a guy who used his manix 2 in self defense and it stabbed the bad guy through his coat and went in and out like butter.. Google it. Then tell that guy the manix 2 isn't good for anything beyond "show and tell". Very few knives have a confirmed real world self defense scenario to back them up but this knife does. Now let's move on to the ridiculous statement you made about not holding up to prying. Please take a moment to slap yourself silly. When has this knife ever been advertised as a prying tool? People like you need to quit reviewing knives because a newcomer might read this and assume you actually know what you're talking about
---
Comment by kevin 07/26/2014
i can personally attest this blade has amazing piercing abiity. i bought one from my local sporting store and grabbed some other things too. busted out the manix 2 to help open the stupid little plastic ties they put on merchandise. i had to cut through 4. 3 went by in a flash, on the 4th, it went through the little plastic tie and right into my middle finger on my opposing hand. woooooooooooooo. blood was spurting 7 ft away. it probaly needed stitches buts its finally healing. this was back on like july 2nd. so about 3 weeks later.... its going to be a wicked scar.... very nasty and deep cut.
---
Comment by Nate 10/10/2012
Mine has absolutely zero side to side play and so far is my favorite folder that I own, and I own many. Also, drop point style of blades are not meant for prying... It is meant for piercing. I must also add that both of the spyderco blades I own seem to keep their edge longer and this knife is very sharp IMO. I love it... Great buy. I paid 100.00
---
Comment by Scot 09/13/2012
I think you would be happier with a flat headed screwdriver.Couldn't disagree more, very solid offering from Spyderco.
---
Comment by Tim 06/23/2011
Why on earth are you prying anything with a folding knife?
---
Comment by Matt 04/01/2011
Could the side to side blade play in your case be reduced by tightening the pivot or is the play a result of the pivot/lock design itself?