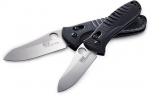 -Price Paid: $98.00
-Used for Every Day Carry
-Owned for 6 months
Comments:
I had been looking around for a new knife to replace my old one of 40 years for some time. The knife was still perfectly OK, but it was time for something newer, a little smaller, lighter and it seemed a good time to give it to my Son anyhow.
I looked at SOG, Kershaw, Spyderco and Benchmade, the one thing that was very important to me was that the knife was high quality and AMERICAN MADE. I didn't want anything that was made in China or just Assembled in the USA (meaning it was made in China with some one just putting the clip on it and placing it in a box here in the USA).
I finally after speaking to there customer service and actually talking to an "American" for advice (NOT a Peggy like in those funny commercials on TV), I decided on Benchmade that is 100% American made as the brand that I wanted.
I don't buy things on the internet I need to feel what I am buying, so I headed to the nearest dealer that Benchmade directed me too.
After handling a very good selection of Benchmades products I decided on the Mini Bone Collectors Folding Knife, the Drop Point Blade Shape is perfect for anything from Skinning to Pealing an Apple and the D2 Tool Steel holds it's sharpness better than my old 404 steel ever did.
The new Axis Lock beats my old Lock Back HANDS DOWN and any of it's competitors that have tried copy it, they can't even come in a poor second to it's utility, functionality and quality.
I personally am right handed but some times have to use a knife in my left hand and from comparing the competition I can honestly say that the Axis Lock is the only truly safe Ambidextrous knife system for one handed use without your fingers being any where near the blade.
By the way the clip does change sides if you are a lefty and I would imagine that this would be a "God Send" for left handed people.
The ergonomics of grip of this knife is extremely comfortable so you can get a good solid hold on the knife and because it's such a good grip the gimping is noticeable without being uncomfortable.
I had a choice of either G10 scales or a Walnut Wood for only $5.00 more, over Black Coated Stainless Steel Liners and Spacer. To me it was a no brain'er and I got the Walnut. The dealer was about my age (not a young man) and he did have a chuckle saying that he sold 3 to 1 of the Walnut to the G10, he personally was a very nice man and was very helpful with a great scene of humor (you just don't get that personal touch buying on the Internet do you).
I have given this knife 10 points all the way, because I believe that if you pay peanuts you get monkeys and this knife will out last me I am sure...