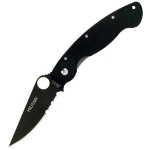 -Price Paid: $129.00
-Used for Every Day Carry
-Owned for 3 months
Comments:
A real hype... Save your money. This is a much overated knife. If I were going to war I would want alot more than this thing... Blade is way off center, handles like a wet banana, it just does not make any sense, the whole knife is a poor concept. Get something bettter with more thought put into the concept of a life saving knife.There are alot better knives than this thing. MILITARY. think again... Look at a Benchmade 710 this is a real piece of craftsmanship. A BUCK 110 is better and will outlast the Military. Just my thoughts...
---
Comment by Man-up Chet 06/30/2017
Time to man up Chet and answer TTT's legitimate questions. Your fake machismo bluster makes one think that it is you who does not know what you are talking about.
---
Comment by Arthur 02/22/2014
I had carried the police model while I was in the Marines. wanted something smaller then the military. believe I went through 5 before giving the military a try. broken blades, locks. IMHO I agree the only thing these are good for is opening mail. any real work and they failed. I had been a loyal fan untill I realized there is no way I could trust my life to these knives. I now carry a benchmade.
---
Comment by freeman 01/30/2014
I would like to know why? I appreciate a nice knife and would like more clarification as to why this knife unsuitable for hard use as you imply in previous comments. I understand the blade issues and that is a manufacture deffect not a design flaw what do you mean by "wet banana"? I value all opinions because I want to know what exactly I will be investing my money in and what to expect.
---
Comment by TTT 09/15/2011
Indeed, Chet's opinion is valid, I was just looking for some reasoning behind it. Instead of saying "this knife sucks," Chet could say something useful such as "the tip on this knife is delicate making this knife unfit for more aggressive piercing operations." That's all I'm saying...
---
Comment by Tony 09/14/2011
I have agree with Chet, though he did hit the knife hard on his ratings it probably deserved it in his mind and I respect his decision to do so. Just because some body in a knife makers "Marketing Department" comes up with a "Cool Name" doesn't mean that it is Military Grade, I have personally seen the knife in question and wouldn't buy it for my son in law when he was serving in the Marine Corp.Many concerned family members have been buying extra equipment for there loved ones that have been serving this country and they deserve the best we can afford to send them.Personally over all I think Chet is right, in the above mention situation it's not about the so called weekend warriors or some kid on You Tube.The knife should live up to it's name specially if some ones life in the Military is concerned and those that are trying to support them with there hard earned dollars.
---
Comment by TTT 09/09/2011
Dear Chet, while you attack me ad hominem, you still don't provide me with even the most basic of information to help me understand your position in your review. Keep in mind, I haven't disagreed with you. I'm asking very simple, straightforward questions such that I better understand your review. 1)What were you expecting of a "military knife" that the spyderco military cannot do? 2)What specific features prevent the spyderco military from adequately performing the tasks you were expecting it to do?
---
Comment by Chet 09/09/2011
TTT, I guess you never read the concept of the MILITARY. I never suggested the thing would fail, I said the concept from Spyderco to market a knife that you would "send your son or daughter off to war with" has fallen short of a military knife. This thing is the perfect knife for people like you who simply don't know what a working knife should be. Be carefull not to cut yourself opening your mail sonnny, because that is the only thing you should be alowed to do with a knife. And don't give me that hater B.S.
---
Comment by TTT 09/08/2011
You sound kind of like a hater, instead of someone providing unbiased feedback. You gave low scores, but the only two negatives you mentioned were that the blade was off center(which can be adjusted pretty easily) and that the handles are like a wet banana, whatever that means...I wasn't aware that the spyderco military was marketed as a "life saving knife," however exactly what were you expecting that this knife did not deliver? I also couldn't glean from your review why you expect the knife to fail prematurely compared to say a Buck 110. Exactly what mode of failure are you worried about?